It is through light that life thrives: just as plants would barely grow and survive without light, the well-being of humans is dependent and influenced by light.
Light can, if used properly, create comfort and release emotions; On the other hand it can also create discomfort and dampen ones spirits. Because of this circumstance, it is important to consider the layout of light in our surroundings. In our opinion it is fundamental to consider the aspects of light well in advance, even during the architectural planning. We are the experts in this department!
In the last years LICHTSTARK has specialised in staging light in varying spaces and facilities using dynamic, colorful light installations, at times even including a music soundtrack attuned to the results of the lighting, which co-exist with the classic, everyday light arrangements. In the field of construction, complex facilities are an interaction between high level light arrangement, architectural composition, electrical engineering, computer science and project management. "Visual Engineering" is our area of expertise!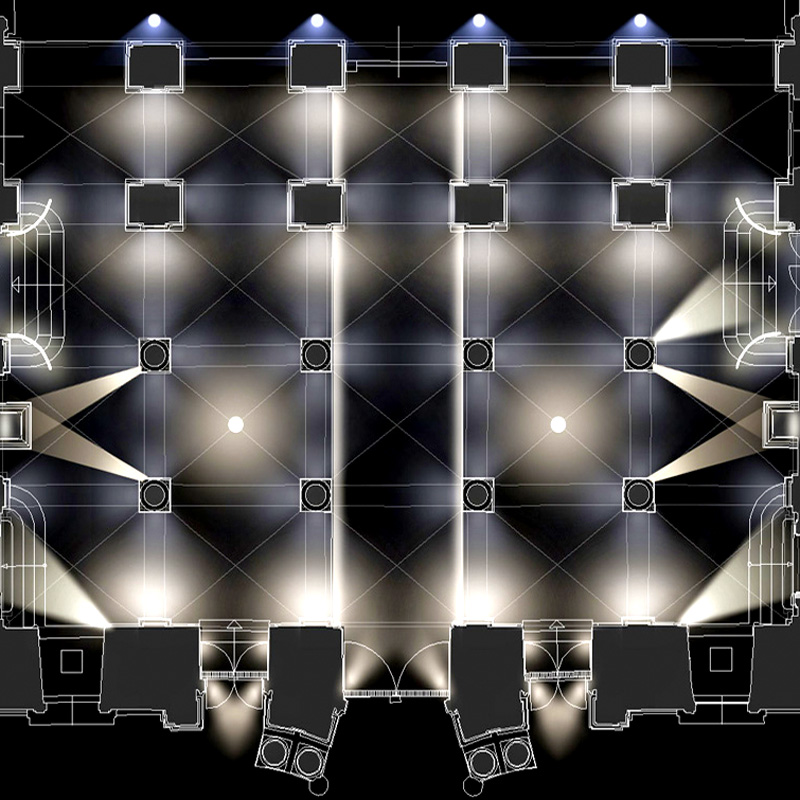 LIGHTING DESIGN
We create concepts of light for exclusive areas of living, working- and salesrooms, gastronomy, outdoor spaces etc. We have specialized in designing light for leisure facilities, may these be water-parks, wellness centres, water slides or funfair rides. The technical light layout with dynamic RGB-lighting used in architecture, belongs to our specialized areas. These are shown for example through media-facades or general lighting for facades.
Our experience in the successful implementation of major projects allows us to master every and any requirement. Become inspired by our ideas and let us become your partner in the realization of these.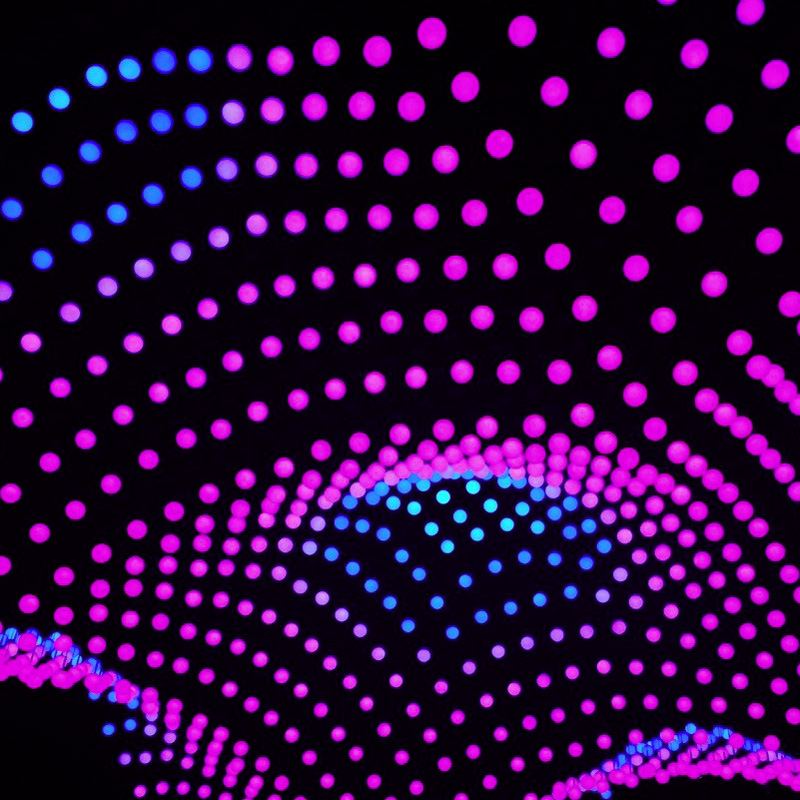 DYNAMIC LED-LIGHTING
With highly advanced LED-technology we make presentations come true that have been unthinkable so far. Using large installations of LED-lamps we can control a singular amount of light with this technique and with that create an innumerable amount of effects, images and moods. This method allows us to display pictures, videos and running texts that can be coordinated with a fitting soundtrack – everything according to the customers wishes.

Such light installations are very complex and need a vast and detailed amount of planning in advance as there are many interfaces with other trades that need to be integrated and considered. Creating content is very important as well. We are master of our trade in all these areas and can offer everything in one single package.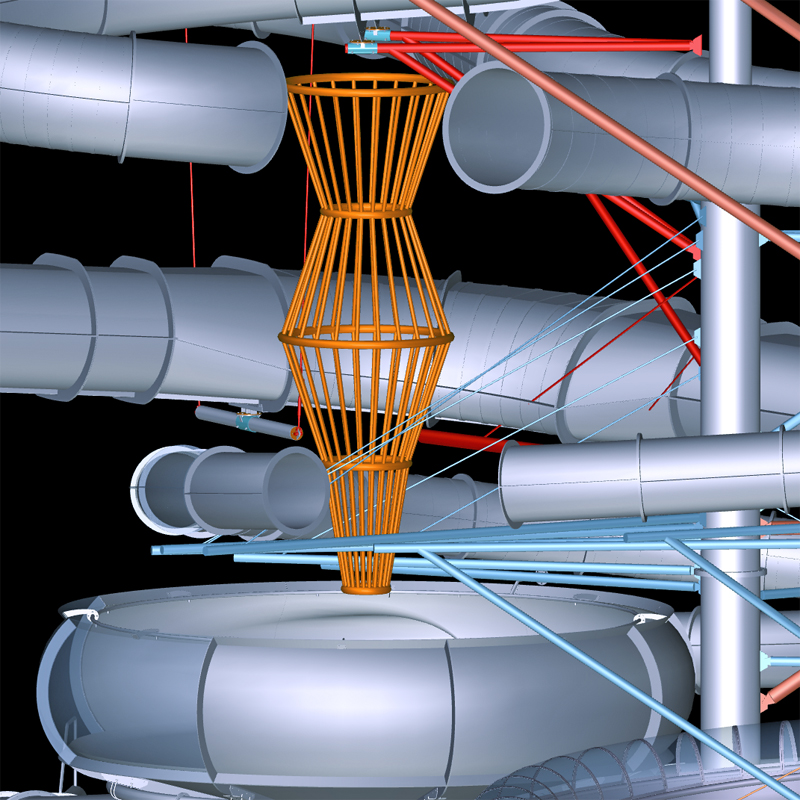 VISUALISATION
To be able to show our customers our ideas of light design in advance, we create visualisations. Ideas are presented in either single images or through dynamic visualisations such as movies. To be able to create these images we use modern 3D-Modeling and Render-Software and many programs for the editing process.

Visualisations are a central element of successful sales negotiations. Allow us to show you our ideas of light and use the medium of visualisation to sell your project successfully! During the phase of detailed planning and its implementation, we will gladly assist you and be your partner.

LEISURE
The technical engineering of light in leisure facilities such as waterparks, swimming pools, slides or funfair rides is only one area of our expertise. In this field and with our long-standing experience, we count ourselves as one of the leading light creators. 
WELLNESS
A finely tuned light ambiance will transform every wellness area into a relaxing oasis of well-being. We design and implement exclusive objects in which there is space for creative ideas.


ARCHITECTURE
Lighting is an extremely valuable architectural element of design. Using varying light-media it has bcome possible to create highlights in an innovative manner. Through deliberate light design for instance, outdoor spaces become cause for more attention.

MEDIA SPACE
With elements of light, areas can be transformed magically into something completely new. Extravagant shows and events are planned and implemented through us. Shining examples are productions with varying LED-lamps and artful Projection-Mapping.

PRODUCT PRESENTATION
In salesroom and fair presentations it has become essential to present and stage products in the best ways possible. For the promotion of sales, the use of individual, large scale LED-installations, is very important, be it in- or outdoors.


GASTRONOMY
There is no other place where customised lighting is as appreciated and contributes so much to the well-being of guests, as in gastronomy and the hotel industry. In these departments, we offer manifold project experience to create a unique atmosphere.

CONSULTATIONS
We are capable of consulting you in all fields of lighting design and planning. As we are completely independent and unattached to manufacturers of lamps, our consultations are neutral. It is our goal, that the result of any project should be the best possible one, no matter which products are used. Our services are usually billed according to the complexity of our work and the time it takes, or flat rate; Travelling costs are not included and are billed separately. We bill all of our consultations.
VISUALISATION
Visualisations are usually required for the planning stage of a new project. Visualisations are very costly and time-consuming and need corresponding Hard- and Software for production. For these reasons we usually draw up a flat-rate together with our customers.
ENGINEERING LIGHTING
Large scale projects are often commissioned to us from beginning to end. This consists of the phases preliminary project, execution project (including announcement), execution, up to the commissioning. During this time a close collaboation develops between architecture, light design and marketing. The cooperation is normally carried out according to the performance and fee schedule SIA 108; our fee is therefore dependent on the construction sum.

PACKAGE WITH LUMINAIRE DELIVERY
Basically we work independently from manufacturers. But if the building owner is interested in all the necessities (Lamps, cables, control units etc.) we can provide a whole package, including the planning and the supply chain.
ENERGY ELEMENTS ELEVEN Säntispark Abtwil (CH)
SHINING SLIDEWHEEL Chimelong Water Park (CN)
BOWLING SHOW Säntispark Abtwil (CH)
INTERACTIVE FLOOR PROJECTION Manor Bern (CH)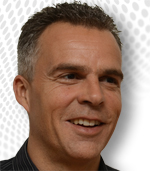 Dipl. El.-Ing. ETH
Owner/Managing Director
Engineer for lighting design
and complex lighting control
Email: benz[at]lichtstark.ch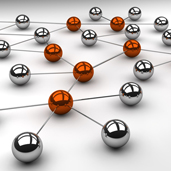 Our large network consists of experts in light design, engineering, computer science, services (e.g. installations, maintenance) and allows us to call in the most experienced specialists.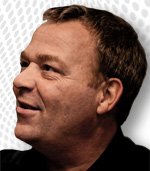 Mo to Fr 8:00 a.m – 12:00 a.m./1:30 p.m – 5:00 p.m.
Because we are often traveling, always make an appointment with us before your visit. If we can not answer your call, please leave a message; we will be glad to call you back.
We do not run a shop or showroom!

OUR WEBSITE

The competent LICHTSTARK team supports you in all questions regarding lighting design, visualization and technical implementation. We invite you to be inspired by our website, to learn about the different technologies, or to contact us for personal advice.